Terminal High Altitude Area Defense (THAAD) Weapon System
Photograph Attribution: By Ben Listerman - Missile Defense Agency, Public domain, via Wikimedia Commons
Press Release Submission: Alaska Dispatch News and Kodiak Daily Mirror - 3-20-17
Missile Defense Agency Receives Comments on Sketchy Draft Environmental Assessment Report for Kodiak Island Missile Launch Site
A sketchy "Proposed Final Environmental Assessment Report" for the Kodiak Island missile launch site was the subject of a recent public comment period; comments were due Februray 13, 2017. The Department of Defense Missile Defense Agency hasn't yet issued a final document for the Kodiak Island Pacific Spaceport Complex Alaska Ballistic Missile Defense Flight Test Support program but the final document is expected soon.
Environmental Review, Inc. provided suggestions such as increasing protectiveness measures for Endangered Species (Stellar Sea Lions and Harbor Seals) with designated critical habitat areas near the launch pad site. Suggestions included adding biological and acoustic monitoring procedures which were absent from the proposed document. Protective monitoring measures should include pre- and post-launch monitoring, video surveys, and noise monitoring during launches as were conducted previously. Other protected species nearby include the gray whale, humpback whale, sea otter, northern fur seal, Dall's porpoise, harbor porpoise and orcas however those species were not identified as needing protectiveness measures.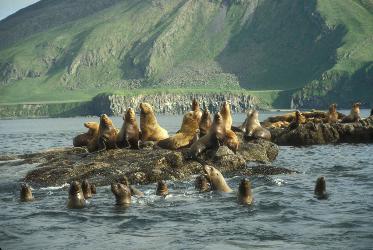 Stellar Sea Lions (Threatened Species in Alaska)
A launch mishap occurred on the launch pad in 2014 which resulted in a nearby beach closure and a response action by a hazardous materials team to clean up rocket propellant and debris; however that also wasn't mentioned in the draft report. The environmental group suggested that lessons learned from the launch failure should be included.
The environmental group requested itemizations of hazardous materials associated with each launch and inquired as to whether armor penetrating depleted uranium was planned for use in the head of each missile. The program plans to use 1,800 pounds of hydrochloric acid per year. The group asked if studies had been conducted to show whether spreading carbon and aluminum particles up to 4 millimeters in size along the flight path would have any detrimental effect on protected species and feeding salmon protected under the Magnuson-Stevens Fishery Conservation and Management Act.
Benjamin Wagner, Project Manager with Environmental Review, Inc. is concerned that important issues were not addressed in the proposed assessment report. He said "The Missile Defense Agency should precisely report data which is both technical and ecological. The sensitive habitats around Kodiak Island are being polluted. The missing information is important to people of Alaska. They deserve to know how these species and food sources are being affected."
To view full version of Environmental Review, Inc. comments dated 2-12-17 go to: http://www.envreview.org/index.php/alaska/68-comments-provided-for-the-department-of-defense-missle-defense-agency-s-kodiak-island-facility-pacific-spaceport-complex-alaska-ballistic-missile-defense-flight-test-support-proposed-final-environmental-assessment-2-12-17 
Environmental Review, Inc., a Nonprofit Public Benefit Corporation  http://www.envreview.org/